Listening to "Forever," Ben Harper.
When I was a kid, somewhere around
7 years old
, I got to do what (
at the time
) I thought was the
coolest
thing in the world
.
Ever
. Cooler than Alanis Morissette playing the harmonica in her music videos (...ok, so I totally miss '90s music).
I got to set up my very own
AIM
screen
name
.
Now, this was "
back in the day
" when not everyone had a home computer. Back in the day, when AOL joyously announced "
You've Got Mail
" after your computer sang the
"Dial-Up" techno-themed connection song
for 20 minutes before getting online. Oh, dial up.
Remember?
Anyway, I was
so excited
to make a screen name. I thought for hours,
days
even, about what my online persona would be titled. And after all that thought, I came up with...
...
what
?
In my elementary-school
genius
, I thought of "
read a bunch
." Because that's what I did when I was young.
I read. A bunch.
Or, "
a bu
," since apparently I thought that shortening "bunch" in my screen name would make sense.
...And the
292
? I have no idea. I guess I thought it rhymed?
Anyway, besides proving to you that I was a
huuuuge dork
when I was younger (/totally still am), I've also revealed one of my long time hobbies:
Reading
!
Me in all my elementary school glory.
My Mom thinks I am too dramatic about how
dorky I was during my awkward years... but
that's just because she's the one who gave me
that haircut.
Like the glasses in that picture? It's a small/blurry pic... but in case you were wondering: yes, I was in serious need of braces. And yes, that's a sweater vest.
ANYWAY-- I
love
to read. After all, I double-majored in English and history in Undergrad. And... if you try to major in
those
without
seriously
loving reading...
you're pretty much going to throw yourself out of a library window
.
Which brings me to the
Word of the Day
:
defenestrate
: to throw through or out of a window.
No, I'm not kidding. Look it up.
Recent Read:
I just finished
Catcher in the Rye
. How I graduated with an English degree without reading this book... I'm not sure. But I finally caught up.
Review
:
I was
definitely
affected by Holden. I was wrapped up in his story and Salinger's writing style. But I just felt so empathetically lonely while reading... and in the end it finished so abruptly. I had to hold the book close to my chest for a couple minutes and just sigh/think. (...I mentioned that I'm a big dork, right?) I wanted to understand his character enough to ponder about where his life went after the story ended. But it was bleak to think about.
Any thoughts? Was this anyone's favorite high school required reading?
If you liked Catcher and the Rye
... might interest you to know that
someone other than Salinger
wrote a
sequel
. No kidding. Salinger's
pissed
about it though and
is trying to sue so that it doesn't get published
. Poor hermit Salinger. He just wants everyone to leave him and his book characters alone. So stop asking him for movie rights to Catcher, people!
The Two-Woman Book Club
So moving on... while in the library,
I was talking on the phone to my Mom about what book to pick up
. My Mom and I are
seriously
close... and what started as a quick phone call about book ideas
turned into a debate about the 15 most alcoholic writers of all time
(I totally predicted Hemingway would be numero uno, but was surprised to see how low ol' Tennessee Williams was on the list... thought he'd be like #3!).
This
digression
turned into us deciding that we should read some books together over the summer.
Join a book club?

Never

!
My whole undergraduate career was like an academic book club. So it's just going to be
my Mom and me
, reading books
pool side
(we've also discussed alcoholic pool-side drinks, which would
of course
change depending on the
theme/setting
of the book).
We decided that I would pick two books, then she would pick two books.
Here are our picks:
1.
Sarah's Key
(my pick): The juxtaposition of two stories: 10-year-old Sarah, caught in the roundup/deportation of Jewish families in Paris during the '40s, and Julia, a 45-year-old Jounalist, covering the story some 60 years later during the anniversary of the tragedy.
2.
'Round Ireland with a Fridge
(my pick): British comedian Tony Hawks is bet that he cannot travel around Ireland with a fridge in tow. This book chronicles his attempt and the journey along the way. What's not to love?!
3.
Love in the Time of Cholera
(Mom's pick): Love and disappointment, set in the Carribbean. I'm kind of
embarrassed
that I haven't read this yet because it's supposed to be
sooo
good.
4.
The Swallows of Kabul
(Mom's pick): Set in Kabul, follows two couples dealing with the rule of the Taliban and the changing social/religious ideologies and how these changes have affected their lives.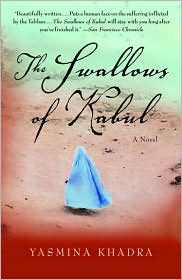 I think we're going to start with Love. We both have other books to finish, then we'll get started!
Other news:
Construction

: is finally done. Our apartment is slightly more normal now.

Knitting

: One more row of checkered squares is complete! Need to go buy different sized DPNs to finish Abby's jacket sleeves... knitting is

expensive

. Good thing I'm an addict.


Cooking

: Am struggling to finish these last couple Recipe Blogroll items. Will work harder this week!

Sports

: Anyone else see the RED WINGS DOMINATE last night? Actually... I was babysitting and watching Disney Channel for most of it. But the score speaks for itself. 5-0, baby!


Babysitting

: Had a full weekend of babysitting and it was lovely. I. Love. Kids.
Your
readabu292
,
OLD-NAVY-LOVIN
, (did you see their sales this week! SCORE!)
Sunday-Food-Network-watchin,
Holden-Caulfield-pondering,
New Girl Blogger
.